"My customers bring the very best ideas with them"
Every forest warden tries his hand at "Schnätz", Elias Rieder says in an interview in his calm manner. The 23-year-old Haslitaler has been sawing and carving wood sculptures full-time for a good year. As a trained forest warden, he has a good hand for the basic building material for his works of art, wood, and the tools required for processing are also in his atelier in the old saw in the Muhr, Schattenhalb. In an interview with the Haslital platform, Elias explains how he selects his trees, how he gets his ideas and what big plans he still has.
Haslital platform: You and your wooden figures are our guest in the platform shop window. How long have you been cutting and sawing figures like this?
Elias Rieder: It started at the beginning of the apprenticeship in 2013. A colleague carved an eagle back then. That piqued my interest and so I made my first attempt. From then on I tried it out again and again, tinkered with it and constantly developed myself further. I think every forester sooner or later tries to carve a sculpture. Some are caught by a fever, others prefer to cut trees.
You are a trained forest warden, when did it become clear to you that you wanted to fully focus on wood art?
That was kind of fluid. Over the years my works and sculptures got a little better and I was able to sell more and more. So the desire to start my own business grew. That was about three years ago. At some point everything was very clear to me - although I actually had other plans.
And what other plans?
I would have liked to have specialized in my profession. Or I would have liked to have gone out of the Hasli for a year or two, to see what it would be like in the lowlands; everything less steep, less impractical and probably also with larger trees. I would have been interested. But I have to say, I am very happy with the path I have taken.
How did you organize yourself at the very beginning besides your work?
At the very beginning, carving was a hobby that I did in my spare time. At the farming community in Hasliberg, where I did my apprenticeship, I was allowed to use the saws whenever I wanted to carve something. And once during my apprenticeship, at the instructor's request, I was able to sniff two mushrooms as a thank you for a hotel in a wood course in Valais. I then got one afternoon for that. That was great!
Where or how do you get inspired? Where do you get your ideas from?
Social media like Facebook and Instagram are definitely important to me. I see the works of people from all over the world. I have certain ideas myself, but the very best ideas and inspirations come from my customers. For example, there was someone there today who wanted a mermaid. In my life I would never have thought that someone would come and make a wish! It's very exciting for me to do something special. Often customers come with ideas that I have concerns about and have to say that it could be difficult. But I'll try anyway. And so you end up carving something that at first you felt was almost impossible. So I always have new challenges.
That sounds demanding. Has anyone ever shown you how to proceed - also technically - exactly?
No, not really. This type of carving is not that common in the Bernese Oberland. For the first three years I taught myself everything. Carving with a saw is a matter of practice. You could learn to be a sculptor, for example, but that's somehow not the same. In 2017 my grandparents gave me a one-week course in Tyrol on the subject of "Carving with a chainsaw".
Can you briefly describe how it looks in your studio?
Most of the time there is a lot of sawdust there and it's very dusty. Then it certainly has about ten chainsaws and various angle grinders. The saws are very different in size, from the smallest with a carving sword to the second largest with a huge sword.
Which tool would you not want to do without?
I have two favorite saws that are very close to my heart. I even had them decorated with water foiling. Both of these are tools with which I make the blank, i.e. saw away the large parts of the trunk. I couldn't work without them.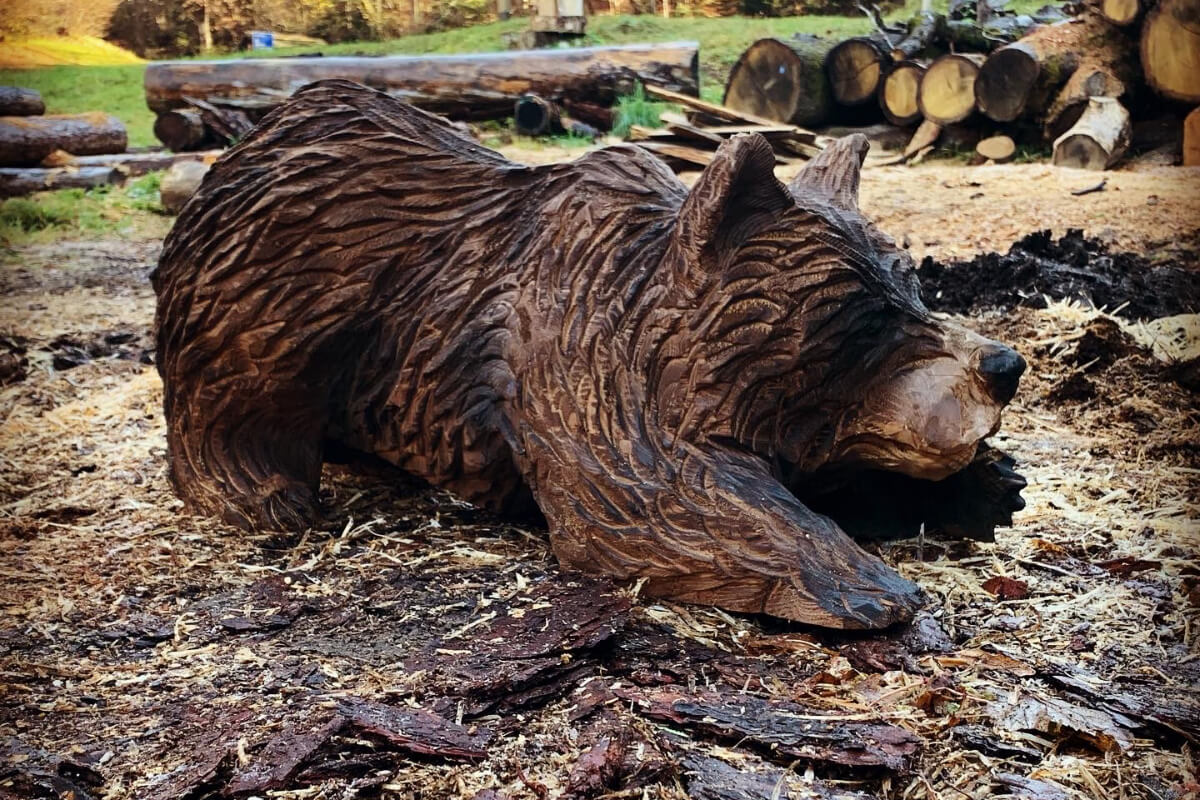 Where did you get the wooden blocks that you need for your figures?
The wood I use usually comes from the region. It is important to me to get the material locally as possible. That also means that I don't go anywhere else to buy wood just because it might be cheaper there. Mostly foresters call me from Hasli when they have something special for me. They know what I need. And then I buy ninety percent of the wood.
Your figures also differ greatly in the colors of the woods. What is best for your job?
For me, larch and oak are the best. Both are very beautiful in color and, above all, they can withstand horrible weather. Most of the time my sculptures are not in living rooms, they are more objects for the garden. My sculptures have their price, then I want to offer my customers something good. If desired, I treat the wood so that it is weatherproof for even longer.
Is there a typical customer who buys a sculpture from you?
No, there isn't. Everything from apprentices to retirees is included. There is not one type of person who shops with me. The only thing I can say: I mostly only sell eagle owls and owls to women and if I sell an eagle owl to a man, then it is safe for his wife. That's the only thing I've noticed so far.
What are the men ordering?
Men like eagles. But the women also order eagles, that's about fifty to fifty.
What does a typical working day for Elias Rieder look like?
I get up, make coffee and check my emails. Then around eight or eight eight I go to work. I deliberately don't start earlier so that I don't wake up the neighbors with a saw. Then I go to my small, heatable room where my orders hang on a clothesline. There I look through whether I can carry out a specific customer order or whether I have time to try something new. Or whether I can make common sculptures like eagles or eagle owls, which I then place in the exhibition space. I also make phone calls around thirty times a day and I am often out and about, for example to visit a wooden stump in a garden that will be used to create a sculpture. And then I keep visiting wood that is offered to me for sale.
How are wood artists like you organized? Is there an exchange between them, a kind of network?
Yes, if there is no pandemic, a wood carving competition would also take place in Switzerland, where you can compete in different disciplines or create sculptures together with others. Unfortunately, I've never been there. Hopefully the competition can take place this year or at least next year. In this way I could get to know new people and exchange ideas, so that I could also expand my personal network and not just that on the Internet.
In Brienz there is a traditional carving craft that is strongly anchored in the region. Do you also lean on the work of such artists?
Of course, I am inspired by wood carving in Brienz, as well as by other artists around the world. Every artistic work has its style, its signature and over the years the work is refined and improved. There are always new influences.
You have been self-employed for a year. Were there any moments when you were unsure whether you were on the right track?
No, I have never regretted taking this path. It always fills me with great joy when I see the happy eyes of my customers. And I still want to try a lot and develop myself further. Of course there is also work that does not succeed. These then end up as firewood, which is also part of it.
When you look in the future, which projects would you like to tackle?
The next project is certainly my own carving course, which I will be holding in the summer together with a sculptor from Brienz. The course is already fully booked. And then the next is a world record attempt. I bought a mammoth tree from which I want to carve the world's largest golden eagle. However, I have not yet seen the trunk in person, so I can not quite judge whether it will be something. But if possible, I'd like to make something bigger out of it, probably on the Grimsel.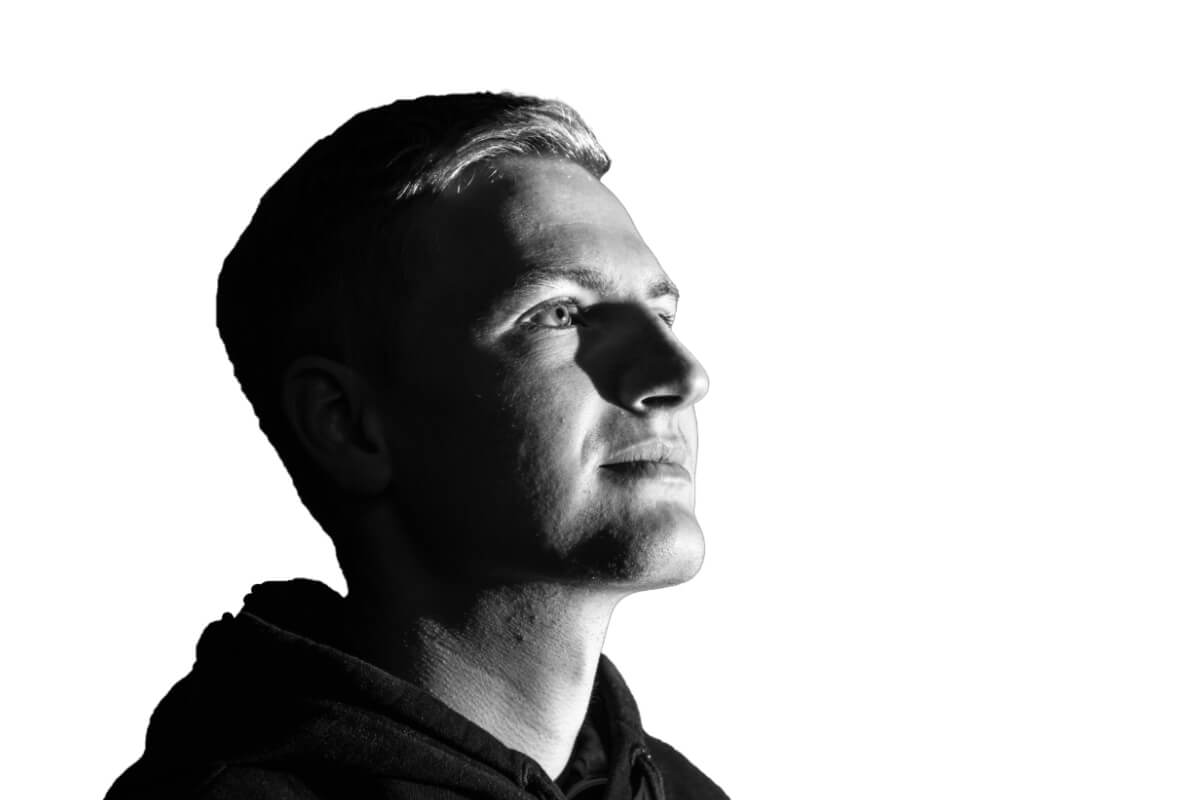 www.riederholzundkunst.ch
Interview: Nadja Ruch